Mpanga Central Forest Reserve Birding Tour
May 27, 2023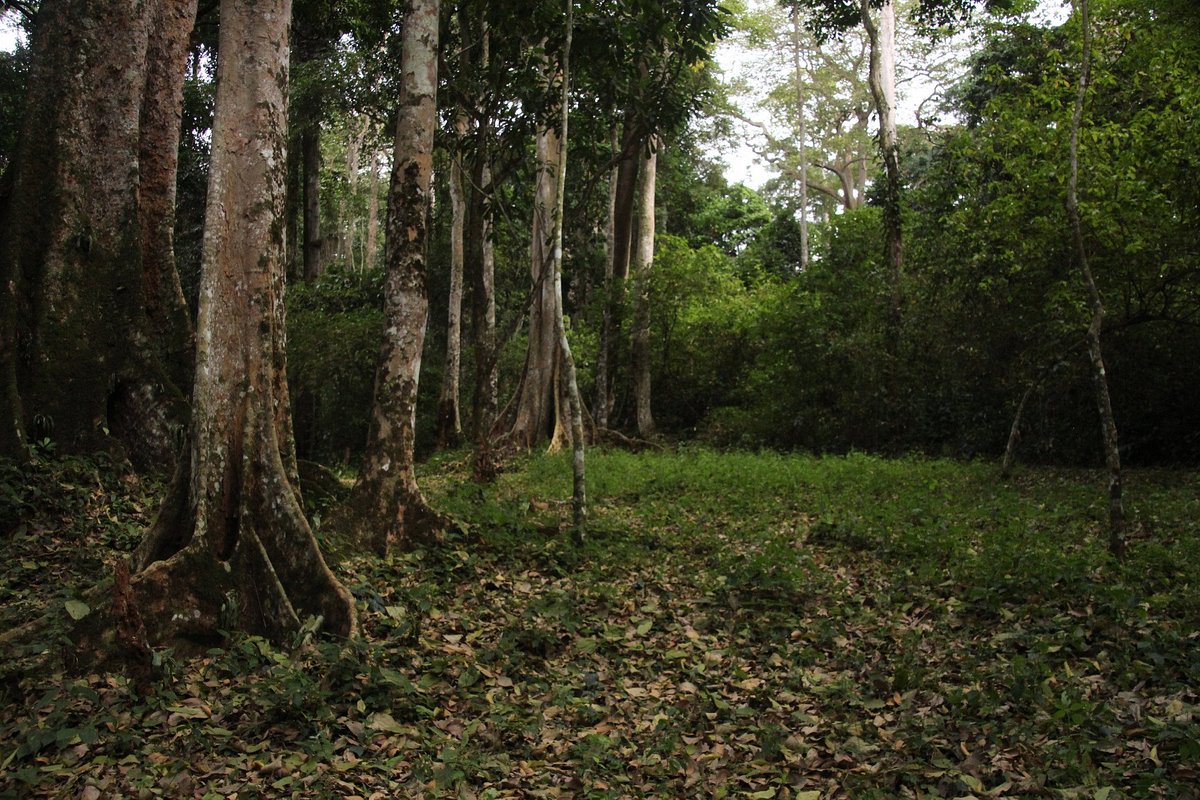 MPANGA CENTRAL FOREST RESERVE
The Mpanga Central Forest Reserve lies 37 kilometres southwest of Kampala City in Uganda's Mpigi district, in Mpambire Village on Kampala Masaka Highway. It is one of the smallest natural equatorial rainforests in Uganda and is the closest natural Forest to the Capital City of Kampala. This remarkable forest spans up to 453 hectares (1,120 acres). This forest reserve was gazetted in 1950 and then later in 1953 which first served as a scientific research site. The forest reserve supports an impressive biodiversity of over 500 species of trees and shrubs with some trees estimated to be 100 years old, You can spend the day birding with 300 species of birds recorded in the reserve, 97 butterflies, and 112 moths. Three species of monkeys can be seen in the forest including vervet, red-tailed and black and white colobus monkeys. There are also several small mammals including banded mongoose, squirrels, pottos, pangolins and bush babies. If you spend a night at Mpanga Forest you have a chance of spotting the rare nocturnal pottos and bush babies. Other Mammals available in Mpanga include; bushbuck, red-tailed monkeys and flying squirrels.
The dominant tree species in Mpanga Forest is the hard and weather-resistant Celtis.  Mpanga Forest is surrounded by a community of traditional drum makers who look for soft trees that are suitable for drum making, and therefore the undesirable hard Celtis trees have so much saved the forest from exploitation by the drum makers. However, The communities still depend on the forest for firewood, charcoal and medicinal herbs.
If you are a nature enthusiast, then a day trip to the Mpanga forest reserve is worth it to explore the abundant forest species and excellent birding hot spot. The reserve harbours a less diverse fauna than larger forests in far-west parts of Uganda but has a lot to offer. Put on your hiking boots, grab your bike, and go into the Quiet and lovely forest for the best Forest Exploration. You can extend your visit and walk or ride up to the surrounding villages and enjoy a stunning view of the area when you reach the plateau.  tour to this place is ideal while on  Your short Kampala City tour, multiday, hiking and camping trips!
Forest Trails are well developed, well maintained and divided into three main routings namely: The Baseline Trail, the Hornbill Trail, and the Butterfly Trail to best suit the Forest activities like: Nature Walks and Forest Exploration, Bird Watching and Identification, Primate Watching, Butterfly Identification, Walk Racing, Dirt Biking, Mountain Cycling, Hiking, Running, Camping.
Birding: Mpanga Forest Reserve is one of Uganda's birding paradise sites that you can easily reach even when you are within Kampala city. There are various birds to excite the mind as you get into the walking trail. The trail is well established and stretches from the forest up to a water stream which is an area for shoebill and visitors can as well get a glimpse of water species. It takes you nearly 3 hours to do your birding experience where you will have an opportunity to watch some of the 50 bird species that are popularly known to live in this remarkable forest. The clear trail also means you can go birding in the Mpanga forest unguided and not be worried about getting lost. Otherwise, a local site guide is available that knows all the resident species here and even their calls! Another birding hotspot for forest species that can be easily accessed from Kampala for a day of birding is the more popular Mabira Forest Reserve. Note that a day of forest birding in Mpanga Forest can be combined with wetland water birding on 1 day Mabamba Swamp Birding Tour famous for the Shoebill and great for water birds, as both spots are located in the same direction and are about 30 minutes drive in between. Birding is easier in Mpanga Forest Reserve than in really dense forests like Budongo Forest Reserve. Make sure to have a guide who knows (and can imitate) the calls since this is really the only way to see anything – except the noisy hornbills!
Notable birds seen in Mpanga Central Forest Reserve while on your nature walks in the forest : long tailed cormorant, cattle egret, black headed heron, purple heron, hadada ibis, Egyptian goose, black kite, lizard buzzard, yellow bill and African palm swift, Hamerkop, Sacred Ibis, African Harrier-Hawk, White-Spotted Flufftail, African Green Pigeon, Tambourine Dove, Grey Parrot, Great Blue Turaco, Yellowbill, African Palm Swift, Speckled Mousebird, African Pied Hornbill, Crowned Hornbill, Black-and-White-Casqued Hornbill, Yellow-Throated Tinkerbird, Hairy-Breasted Barbet, Buff-Spotted Woodpecker, Brown-Eared Woodpecker, African Pied Wagtail, Yellow-Throated Longclaw, Black Cuckoo-Shrike, Western Nicator, Red-Tailed Greenbul, White-Throated Greenbul, Rufous Flycatcher-Thrush, Buff-Throated Apalis, Northern Black Flycatcher, Ashy Flycatcher, Lead-Coloured Flycatcher, Chestnut Wattle-Eye, Red-Bellied Paradise-Flycatcher, Pale-Breasted Illadopsis, Yellow White-Eye, Olive Sunbird, Scarlet-Chested Sunbird, Grosbeak Weaver, Compact Weaver, Weyn's Weaver, Red-Headed Malimbe, Grey-Headed Negrofinch, White-Breasted Negrofinch, African Firefinch, Bronze Mannikin.
Forest Walks: The nature Guided walks through Mpanga Forest Reserve offer visitors the opportunity to explore the remarkable hidden treasures of the forest on day or Night Tours while enjoying the natural setting of the forest, enjoy the cool weather conditions under the forest canopy. These Walks are conducted by the Mpanga eco-tourism centre which was established in 1999. This will give you the opportunity to sight at countless trees, monkeys, butterflies and many colourful birds. There are also nocturnal species for you to sight, especially for those visitors who spend their night around the forest reserve. The forest walk is mainly conducted by the Mpanga Ecotourism Center which was launched in 1999.
Walking Forest Trails: Forest Trails are well-developed, maintained and subdivided into three main routes to explore the Mpanga forest; the Baseline trail, the butterfly trail and the hornbill trail. These mainly offer incredible experiences with monkeys, common forest birds and several plant species to be explored. A variety of walks, ranging from fifteen minutes to several hours in length can be done at Mpanga forest. These Forest Trails Include:
A three-kilometre straight, wide trail which passes straight across Mpanga and ends at the edge of a papyrus swamp (Nakyetema) on the west side of the forest. There's no need to watch your feet just put your head in the trees and enjoy fabulous views into the forest canopy. This undulating walk over gentle rises and across two streams offers some of the most impressive trees in the forest and is also an excellent place to view clouds of butterflies, which congregate in the sunny clearings along the trail. This trail can be used for mountain biking by looking back through local villages and dirt tracks.
This one-kilometre distance winding jungle trail is for visitors wanting a short adventure and willing to occasionally climb over logs and duck under dense tangles of vegetation covering the forest with lots of animals and vegetation types to be seen.  Animals common on this trail are bush babies and leopards which can be seen occasionally. This trail takes about 30 minutes to walk through.
The five-kilometre loop passing deep into the heart of the forest is the best forest trail. Like the butterfly loop, it offers adventurous terrain along the streamside and across gentle hills. Watch out for the 'tree root arch' halfway along the trail. The trail takes approximately 3 hours but can be combined with shortcuts to the Base Line trail if tired.  Enjoy spectacular rolling hills, forest streams, buttresses, fungi, root structures, monkeys, butterflies, snakes and many more. Also, watch out for rather timid snakes including a sleepy python. It covers a distance of about 5 kilometres, hiking this trail normally takes about 3 hours.
Night Walks: This is basically for tourists to spot the rare nocturnal pottos and bush babies that eat at night and also for those who just want to make a walk in the dark to enjoy the experience of the jungle at night
Camping: It is a good place to go camping with friends and family for nature walks, bird watching and a night campfire listening to music and sharing barbecue with stories about your Uganda adventure Trips. The place is a must-go for people who love camping.
Guided tours: Local guides are available for visitors wishing to learn more about the forest or to travel to more remote parts of the forest. The forest links well to the rural areas surrounding it providing good opportunities to walk through traditional Ugandan villages and farming areas. Some trails are way marked for the independent visitor. Some guided Walks lead you to Kiganda shrines just one kilometre from the ecotourism centre and the Nakibinge.
Hill climbing: Tourists also have the opportunity to view the forest and surrounding valleys of the flat-topped hills which are remarkably stunning.
Cycling / Biking: You can grab your bike and go into this lovely forest for the best Forest Exploration. You can bike up to the surrounding villages and enjoy a stunning view of the area. One can Cycle from Kampala or Entebbe to the Mpanga forest Cycling Tour.
Shopping for souvenirs: Visit the local markets and do some shopping at the Mpambire trading area a drum-making village renowned for the making of royal drums. Here you will buy drums, baskets, mats, local tools and many other handcraft materials. Drums are very significant in African rural societies since ancient times they have been used for communication purposes, drums are also used as musical instruments by many African tribes for entertainment. Mpanga forest reserve has got most of the tree species used for drum making.
Leisure Activities are also available for those not yet ready for the forest; Community Led Activities SDG Village. An NGO called Climate Smart Youth Action Network (CSYAN) is implementing an SDG model Village as a community-led initiative for promoting climate-smart action around the forest boundaries. Peniel Rwendeire the Technical Advisor for CSAYN discovered such a need in 2020 during the lockdown and has been mobilizing different stakeholders to be part of the initiative. (http://www.csyan.org/). These Leisure Activities Include Silent Disco, Volleyball, Board games, Campfire, Photography, and Videography. Have fun, take a chill and enjoy a tasty meal at Taza café.
How to get to Mpanga Central Forest Reserve?
By Road:
The Mpanga Central Forest Reserve is easily accessible through the main Kampala – Masaka Highway located in Mpigi District 60 minutes' drive from the capital Kampala on a 37 Km Kilometer drive. Once you reach Mpigi Town, take the 1km drive off the main road at the Eco-tourism centre site post to the Mpanga Central Forest Reserve on a dirt road to the forest and this you walk it or take a motorcycle ride (bodaboda). All visitors to the reserve are received at the Mpanga eco-tourism centre and the forest can be visited on both day and overnight tours.
Note that there is a compulsory entrance fee of 10,000 (Ten Thousand Uganda Shillings) per person and an additional 10,000 (Ten Thousand Uganda Shillings)  for a forest walk, camping charge of  10,000 (Ten Thousand Uganda Shillings) per person for the Camp Ground.
Accommodation / Where to stay
There is one tourist Banda at the Visitor Reception Centre at Mpanga under the management of the National Forestry Authority, a Self – Contained Duplex, and a Double Room on the main Office Block that can accommodate 12 visitors at once. The Rooms have mosquito nets.
Mpanga Ecotourism Campsite:
This is made of 2 double rooms, 2 twin rooms, an 8-bed dormitory and a good place for camping. Meals and campfire are also provided. The Mpanga forest reserve provides camping grounds for tourists with latrines, the campfires are always set up at the site every evening as visitors sit around and enjoy storytelling. Tourists who love to camp must come with their own camping equipment such as tents, food and utensils and many more things that might be needed. There are also picnic sites where tourists can enjoy their meals. Tourists can also get accommodation from Mpigi town which is about 5 kilometres from the forest reserve.
We Organize day tours from Kampala / Entebbe combining Mabamba Swamp Birding Tour and Mpanga Forest Reserve Day Tours is an ideal place for your gateway on your Uganda Safari Tour.
January 29, 2023
What is the Best time to visit Uganda Uganda is one of the best destinations to visit all year round