Travelling at Christmas: What you need to know
November 30, 2020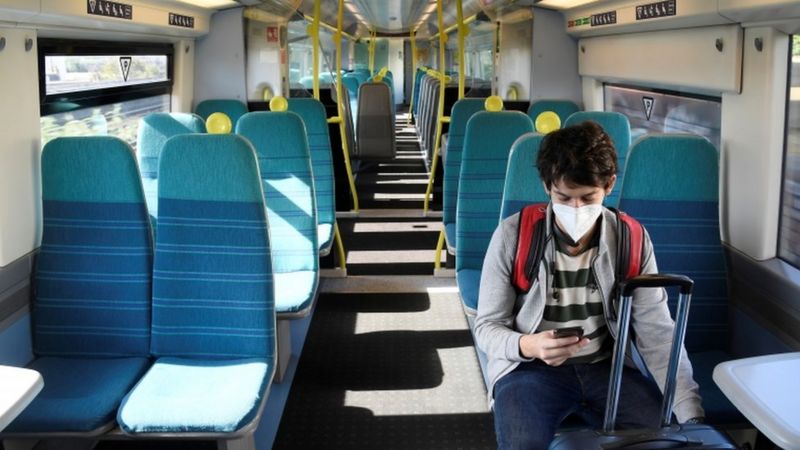 Christmas is often a frantic time for travel, with people rushing across the UK to be with loved ones for the holiday season.
And this year there will be no squeezing onto a packed train carriage. Trains, coaches and planes are all running at reduced capacity to allow for social distancing, with tickets often needing to be booked in advance.
The prospect of public transport is unable to cope with demand has prompted the government to appoint a Christmas travel tsar – Network Rail chairman Sir Peter Hendy.
He is assessing whether road, rail and air networks are prepared enough for the onslaught of travellers during the festive window.
Transport Secretary Grant Shapps said plans were being made to minimise disruption, with further details being published next week "once the demand is clearer".
He has warned that people should plan their routes carefully – and even consider not travelling at Christmas at all.
So what should you do if you're going to travel this year to spend Christmas with loved ones, and how might services be affected?
Trains
As is standard every year, there are no train services running on Christmas Day and only a very limited number of services running on a small number of routes on Boxing Day.
But for the days passengers can travel, they are being urged to book ahead and avoid busy times due to the combination of reduced capacity and the limited travel window. And some operators will prevent passengers from boarding without a pre-booked ticket.
There have already been reports of advance tickets selling out or going for exorbitant prices.
The good news is that operators say more advance tickets will soon be available, blaming the current shortage on changes to the timetable caused by the pandemic.
But the bad news is that tickets are expected to sell fast.
The Rail Delivery Group, which represents operators, advised people to keep checking for tickets and consider signing up for notifications from rail operators, some of whom will confirm when more fares are available.
Avanti West Coast, which operates trains on the West Coast Main Line, has said it is suspending peak fares between 18 December and the end of the year to help maintain social distancing on its trains.
This will slash the cost of many journeys on its network – for example, passengers buying a fully-flexible fare from Manchester to London during what is usually a peak period will be charged £64.40 instead of £180.
Mr Shapps has also revealed there are plans to run longer trains on the rail network, though we're yet to hear specifics about which routes these are planned for.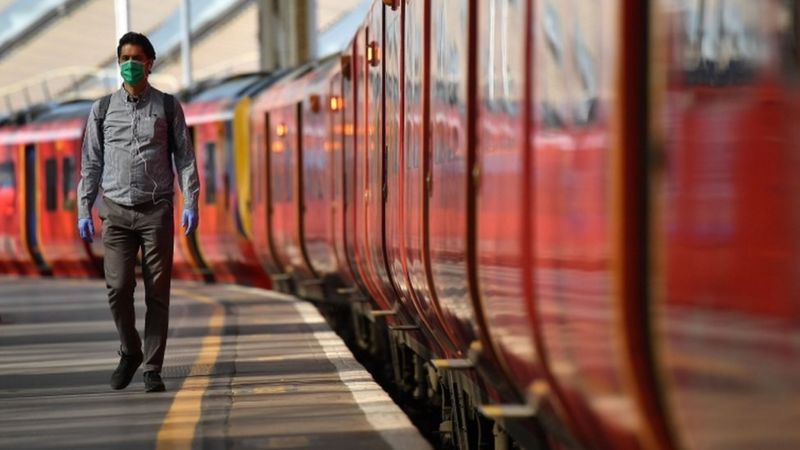 There are also annual Christmas rail works to contend with – though the majority of the network has been cleared of engineering works in a bid to avoid disruption.
However, Network Rail engineering works are taking place from 23 December to 4 January, with some railway lines closing to allow the work to take place.
London King's Cross station will be closed for six days from Christmas Day as a £1.2bn upgrade of the East Coast Main Line continues.
Network Rail is also warning of a "significantly reduced service" from 25 December to 4 January between Clapham Junction and London Waterloo because of major work.
But work scheduled for the festive period will be reviewed if passenger demand is high. However, government sources say it is unlikely that the major works on the East Coast Main Line and London King's Cross will be altered.
Coaches
With trains likely to struggle with demand, coach operator National Express has said it will increase its services in the run-up to Christmas, having seen a "significant" increase in traffic to its website since the Christmas Covid rules were announced.
However, this still amounts to reduced service, the operator said, with this year's Christmas Day timetable covering about 55% of the locations compared with 2019.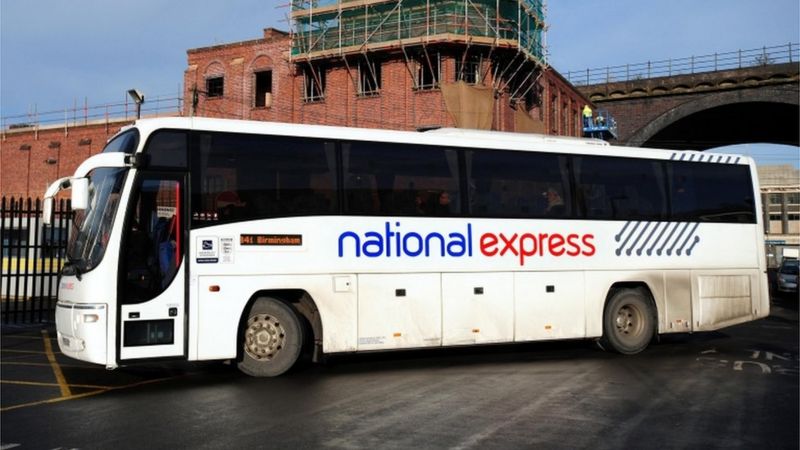 The operator said it will focus on major cities, towns and airports and expects demand for services to grow as more guidance about what we can do over Christmas is released by the government.
Megabus also said it had seen an increase in bookings over the past few days and expected demand to continue to grow.
Both will have a role in the mass exodus of students from universities between 3 and 9 December, aimed at minimising the risk of them spreading Covid-19 to their home areas.
Megabus said extra seats will be available from all the largest university campuses, cities and towns for students travelling home for Christmas, including Manchester, Birmingham, Nottingham, Oxford, Newcastle, Sunderland, Middlesbrough, Sheffield, Leeds, Norwich, Cardiff and Bristol.
National Express said it had increased capacity its usual routes that serve university locations and was speaking with universities about the possible need for special services.
Both operators will have services on Christmas Day.
Mr Shapps has also said the government is relaxing rules to allow more types of coaches to run over the festive period.
Roads
One upside for those travelling by road is that there are likely to be fewer roadworks than normal over the Christmas period.
The transport secretary said 500 miles of roadworks had been cleared on motorways and A-roads to ease any congestion.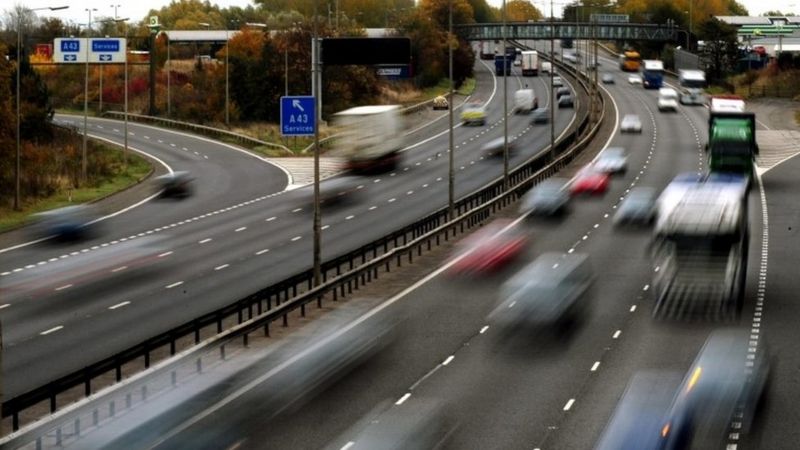 Melanie Clarke, customer service director for Highways England, said the "current plan" was to remove "non-essential" roadworks from 20 December to 4 January 2021.
The RAC said its breakdown team is planning for the roads to be busy during the five-day period when coronavirus restrictions are eased, though it said it "remains to be seen" what the appetite for journeys would be this year.
The AA said it was not "overly concerned" that traffic congestion would occur on roads.
A survey it conducted found two-fifths of drivers had already cancelled festive travel plans.
Flights
EasyJet said it had already taken the decision to increase the number of seats on offer between London and Belfast, and London and Scotland over the Christmas period.
"We are operating flights in line with demand, which we will be monitoring over the coming days and are able to adjust our flight schedule accordingly," a spokesman said.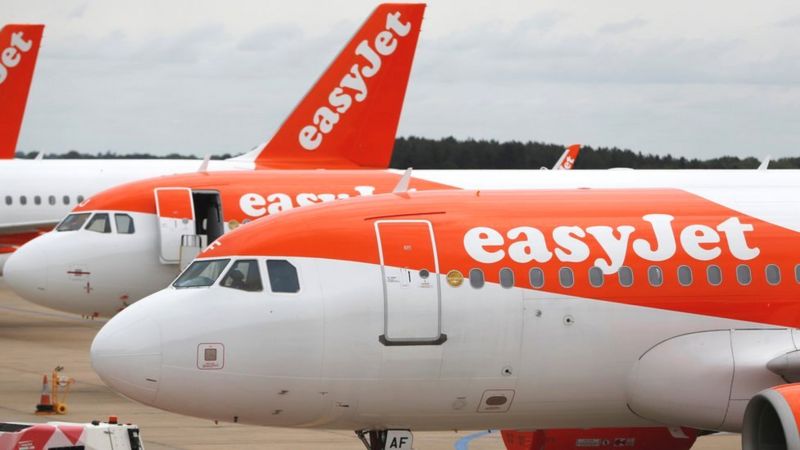 British Airways said it had seen an uptick in the numbers of people visiting its website looking at flights and holidays.
A spokesman said it would be putting on larger aircraft if needed, "where possible".
But Irish airline Aer Lingus said it would be operating a "much-reduced schedule" due to a "lack of demand" for air travel.
However, it said additional capacity had been added to key routes including Dublin to London Heathrow over the Christmas period.
May 27, 2023
MPANGA CENTRAL FOREST RESERVE The Mpanga Central Forest Reserve lies 37 kilometres southwest of Kampala City in Uganda's Mpigi district,