Top 4 Wildlife parks to Visit while in East Africa
July 27, 2022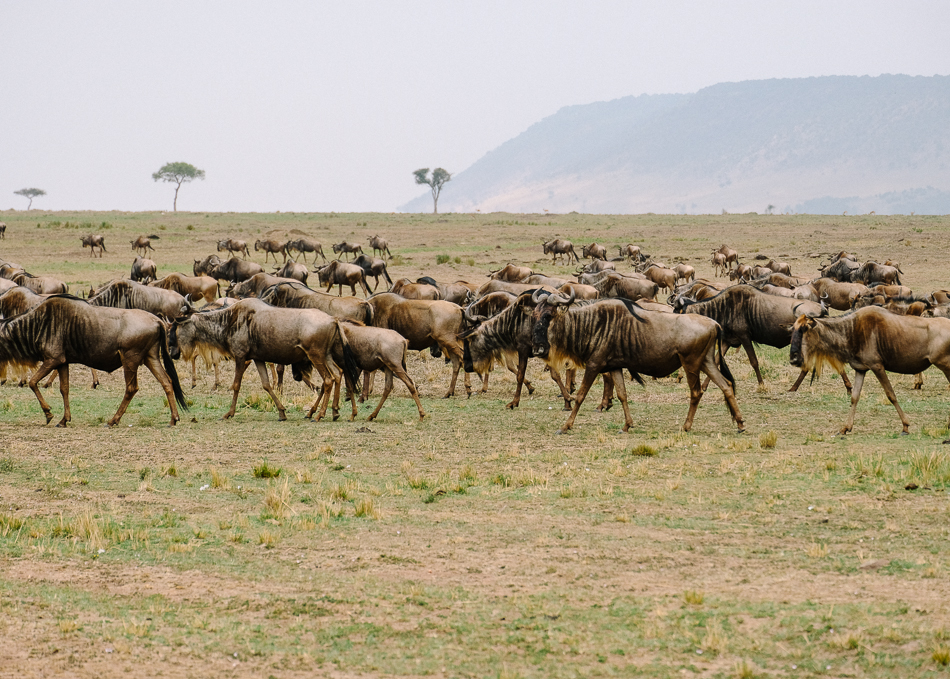 TOP 4 BEST WILDLIFE PARKS TO VISIT ON YOUR EAST AFRICA WILDLIFE SAFARI ADVENTURE
The best-known countries for East African Wildlife Safaris are Tanzania, Kenya, and Uganda. East Africa provides a once-in-a-lifetime opportunity to see and experience untouched terrain, and breathtaking landscapes as you  Immerse yourself in a truly authentic African Safari experience to discover Wildlife, Nature and Culture. If it is your first time planning an all-inclusive Africa safari vacation, East Africa is the pioneer safari destination and a great choice for first-timers. Africa is world famous for its wildlife safaris, and is known as the land of the big five; the African elephant, African lion, Black rhinoceros, African leopard and Cape buffalo. The big five are game animals, and the term refers to the five most difficult animals to find in Africa.
When planning an East African Safari, the most important thing to remember is how the rainy and dry seasons affect wildlife viewing. The best time to go for your East African Safari is during the dry season which runs from June to October. These countries can still be visited all year due to their temperate temperature, seasonal migration and plenty of animals. Get ready for the best African safari experience at any of the Top 4 Best Wildlife parks to Visit on your East Africa Adventure.
Top 4 best wildlife parks to visit on your East Africa wildlife safari adventure
Serengeti National Park, Tanzania
Head towards northern Tanzania for a classical safari destination, Serengeti National Park which boasts one of the largest populations of mammals in the world. It is best known for its huge herds of plains animals (especially wildebeests, gazelles, and zebras), and it is the only place in Africa where vast land-animal migrations still take place. The annual Wildebeest Migration is one of the prime attractions of the Park when vast numbers of hoofed animals are seen migrating from December to July. Serengeti National Park Covers 5,700 square miles (14,763 square km) of some of the best grassland range in Africa, as well as extensive acacia woodland savanna. With elevations ranging from 3,020 to 6,070 feet (920 to 1,850 metres), the park extends 100 miles (160 km) southeast from points near the shores of Lake Victoria and, in its eastern portion, 100 miles (160 km) south of Kenya – Tanzania border. It is along the "western corridor" to Lake Victoria that many of the park's animals migrate. Within the area are nearly 1,300,000 Wild beasts, 60,000 zebras, 150,000 gazelles, and numerous other animals.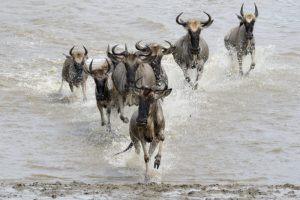 Serengeti National Park is a World Heritage Site teeming with wildlife. The Big Five of Africa can be easily sighted here. Serengeti National Park offers an unparalleled African safari experience. There are 3,000 lions and great numbers of spotted hyenas, 1000 leopards, rhinoceroses, hippopotamuses, giraffes, cheetahs, and baboons. Crocodiles inhabit the marshes near the Mara River. More than 500 species of birds, including ostriches, vultures, and flamingos, have also been recorded. The local elephant population is estimated at some 1,360. During the wet season, from November to May, the herds graze in the southeastern plains within the park. In late May or June one major group moves west into the park's woodland savanna and then north into the grasslands just beyond the Kenya-Tanzania border, an area known as the Mara (Masai Mara National Reserve). Another group migrates directly northward. The herds return to the park's southeastern plains in November, at the end of the dry season.
Kidepo Valley National Park, Uganda
The Park is located in Uganda at the farthest corner of the Karamoja district sharing the border with Kenya's Northern Frontier District and Sudan. The rising mountains and sprawling savannah make the Kidepo National Park one of the most  Magnificent Wildernesses and picturesque in Africa. With big Game Favourites such as Cheetah, Eland, Elephant, Giraffe, Hartebeest, Hyena, lion and zebra as well as one of Africa's largest single Single herds of Buffalo. With Wildlife species such as aardwolf, bat-eared fox, Cheetah, Stripped hyena and Ostrich are not often seen in other protected areas of Uganda.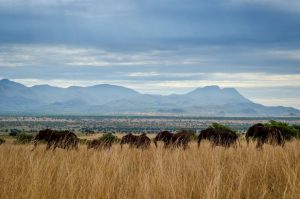 It is considered to be the least explored due to its Isolation and is the most remote park. Visit the haunting ruins of a lodge and enjoy experiencing the phenomenal wildlife sightings like never before. Get to know more about the Karamoja Culture, History and Tradition as you explore the Manyattas, and join the traditional dances. Climb the Region's distinctive Volcanic Peaks.
The best time to visit Kidepo national park for game viewing is during the dry season months of July and August when animals are concentrated near water points. During the rainy seasons, animals disperse from the valleys, moving to the higher and drier grounds where they are not so easily seen.
Masai Mara National Reserve, Kenya
Maasai Mara (Masai Mara) is situated in southwest Kenya and is one of Africa's Greatest Wildlife Reserves featuring a stunning kaleidoscope of wild and rugged landscapes, warm and welcoming people and an exciting array of creatures. The Masai Mara National Reserve and conservancies are brimming with life and offer safari travellers a wide variety of activities to choose from. Whether you take to the skies for a high-flying hot-air balloon adventure at sunrise or hit the road for a 4×4 safari, you're sure to leave the Masai Mara with unforgettable experiences and lifelong memories. Together with the Serengeti National Park in Tanzania, it forms Africa's most diverse, incredible and spectacular eco-systems and possibly the world's top safari big game viewing eco-system. It is a conservation area which is so important to the world and is one of the few places on earth where wild animals and their ecosystem exist in a highly protected environment. The legendary wildlife reserve is home to The Great Migration annually from July through October where one can see millions of zebra, wildebeest and gazelle rushing across the plains looking for greener grass.  The Great Migration, which has secured it as one of the Seven Natural Wonders of Africa, and as one of the ten wonders of the World the Masai Mara has endless plains, breath-taking vistas and abundant wildlife.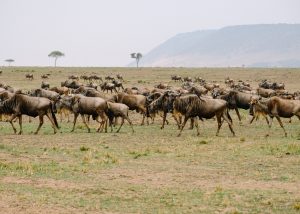 The park is also world-renowned for its exceptional populations of lion, African leopard, cheetah, jackals and African bush elephant.  The Greater Mara ecosystem encompasses areas known as the Maasai Mara National Reserve, the Mara Triangle, and several Maasai Conservancies, including Koiyaki, Lemek, Ol Chorro Oirowua, Mara North, Olkinyei, Siana, Maji Moto, Naikara, Ol Derkesi, Kerinkani, Oloirien, and Kimintet. The Masai Mara National Reserve was named in honour of the Maasai people, the ancestral inhabitants of the area, who migrated to the area from the Nile Basin. These are another highlight of the Masai Mara Reserve the local Maasai tribes seen in their bright red robes. The long cool-dry season from July to October is considered by most to be the best time of year to visit Masai Mara but also the costliest season too. The absence of rain means that the flora is less dense, so animals are easier to observe. Additionally, insect levels, including mosquitoes, are lower during the dry season.
Murchison Falls National Park, Uganda
Murchison Falls National Park is Uganda's largest Conservation area and home to Game rich plains of 5,000sq of Wilderness and home to about 76 mammal species, including buffalo, elephant, giraffe, hartebeest, Hippo, leopard, lion and Uganda kob. There are also 450 bird species in varied habitats such as savannah, Open Water, Papyrus swamp, woodland and tropical forest making it one of Uganda birder's Heaven when you take a cruise a cruise down wards Lake Albert most notably the shoebill, while 59 restricted range species including Albertine rift endemics and rare Central African species awaiting in Budongo and Kanyiopabidi forests with primates, including Chimpanzee can also be tracked. The Nile is the lifeblood of Murchison Falls National Park sustaining large numbers of resident hippo, crocodile and water birds and other regularly visiting animals. At Karuma Falls, the river races down 80km of rapids before crashing 40 metres 130 ft onto the rift valley floor over the thunderous Murchison falls. Game drives are available as well as Forest Walks in search of birds and primates. The Park offers a beautiful setting for spotting wildlife while on your Uganda Wildlife Adventure Safari.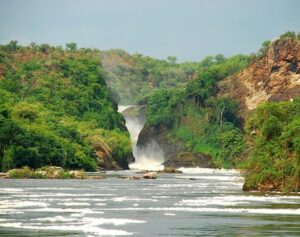 Murchison Falls National Park is enjoyable all year round, but December to February is considered the best time to visit the park. June to September is another great window to visit. During the dry season, the animals are easier to see because they are drawn out of the dense bushes and closer to the water sources. Trails for tracking chimpanzees are clear, and the weather, in general, is good for game drives and sightseeing. There are hardly any mosquitoes so the chances of getting malaria on a safari to Uganda during this season are very low. While during the wet season, The vegetation in the park is lush and green and beautiful during this season. The rains usually fall from March to May, and from September to November. This is the best time to go bird-watching in Murchison Falls National Park with fewer people and a lot of bird activity.
May 27, 2023
MPANGA CENTRAL FOREST RESERVE The Mpanga Central Forest Reserve lies 37 kilometres southwest of Kampala City in Uganda's Mpigi district,