Ziwa Rhino Sanctuary Tour | Uganda wildlife safari | Rhino tracking Safari
August 31, 2019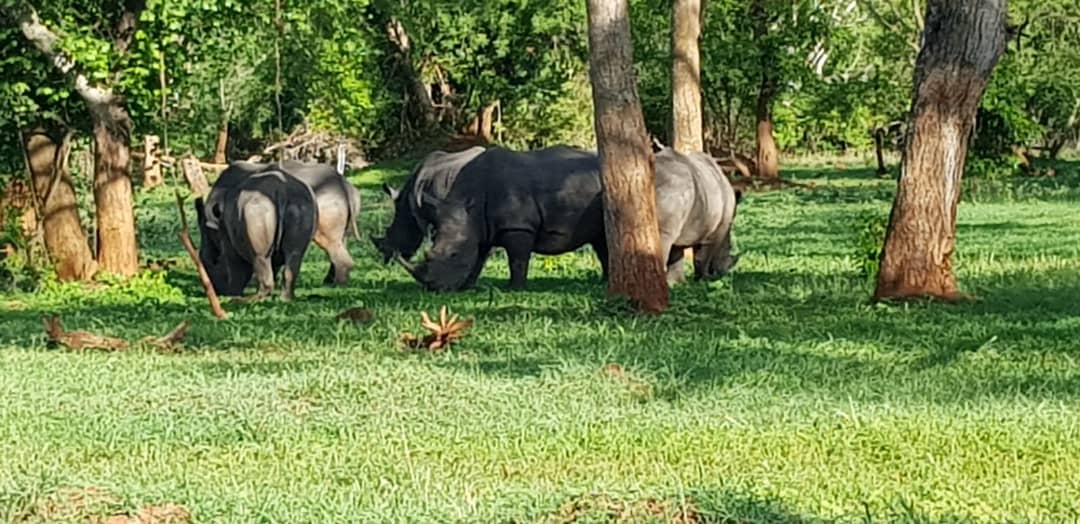 ZIWA RHINO SANCTUARY
Ziwa Rhino Sanctuary and Wildlife Ranch is the only place in Uganda where you will be able to see the endangered rhinos in the Wild. It is situated in Nakasongola District, near Nakitoma Village, in the north of Kampala along Kampala – Gulu highway approximately 180 km by road; it covers around 7,000 ha (70 sq km). It takes about 3 hours to drive there; this is about half way of the journey to Murchison Falls National Park.
Uganda used to have a big number of Rhinos in the 1890's but during the massive wars in the 1970s, there were serious killings, poaching and hunting and by 1983 there was extinction of Rhinos. In 2005 the sanctuary was established and rhinos were re-introduced by the Rhino Fund Uganda. Ziwa is the only place where you can track rhinos on foot; it is really great and exciting as you watch the white rhinoceros! This place has a tight 24-hour security, after the actions done in the 90's.The sanctuary has around 78 amazing trained and skilled park rangers; it works hand in hand with the Uganda Wildlife Authority and Ziwa Ranchers Limited. It started with 6 rhinos but currently the number has grown to about twenty two (22) Southern white Rhinos. Apart from rhinos, Ziwa is also home to a number of bird species, reptiles, and 40 mammal species including antelopes, crocodiles, hippos, monkeys among others. There is surely a lot to do and see in the sanctuary such as bird Watching, Nature walks, Night walks, Shoe bill Trek and Canoe Ride and Relaxation, though Rhino tracking is the major activity.
Rhino Tracking
This is a unique activity which permits you a chance to see rhinos on foot and the Only place to see wild rhinos in Uganda and this involves watching them up close and at a safer distance. With the guidance of skilled ranger guides, you can get closer to them up to about 6 to 7 meters, you can take as many photos as you want and observe these endangered rhinos feed in their habitat. In fact while on your Safari to Murchison Falls, this is the chance for you to have a stopover to see all the Big 5. You can also come across other wild animals like Uganda Kobs, Oribis, Bushbucks, Water bucks, hippos as well as Reptiles and Primates also lookout for a number of other bird species. This activity is a once in a lifetime opportunity and should not be missed!Your guide is there to keep you safe from harm so listening to the safety briefing he gives you is very important.
Recommended times: 08:00 Am to 10:00 Am or 4:00 Pm to 06:00 Pm (but it is available all day)
How much time you need: 1½ to 2½ hours (depends on location of rhinos)
What you need: Closed shoes, long pants, water and insect repellent
Bird Watching Tours
The sanctuary is home to over 350 bird species, thus a haven for birders to have a full or half day time of birding either on a guided nature walk or on a boat ride. There are four bird trails within the sanctuary which cover woodlands, swamp and Savannah.  You will be guided by experienced bird guides of the sanctuary. Bird species that can be spotted include; the Blue spotted dove, the Shoe bill stork, Abdim's stork, and African black crake to mention a few. Spend a night or two on the sanctuary and enjoy the array of feathered friends we have.
Best times for this activity: 07:00 Am to 09:00 Am and 04:00 Pm to 06:00 Pm
How much time you need: 2 hours
What you need: Closed shoes, water, long pants and insect repellent
Shoebill Trek  and Canoe Ride.
One of the most sought after birds to be seen in Uganda is the shoebill stork. This is one of the only places that you are almost always guaranteed to see the storks. The best sighting has been 11 in one trip! Within our swamps, these prehistoric-looking birds are nesting.
An early morning (06:00 am) shoebill trek and canoe ride through the swamp not only gives you the opportunity to find the shoebill, but also to see the beautiful Ugandan sunrise over the Lugogo Swamp.
Water birds are plentiful and this activity is a must for anyone who loves nature or is interested in birding.
As this activity is early in the morning, you must stay overnight as you are unable to enter the sanctuary before 07:30 Am.
Recommended time: 06:00 Am to 10:00 Am.
How much time you need: Approximately 4 hours
What you need: Closed shoes, water, long pants and insect repellent
Nature Walks; Day or Night Walks
Guided Nature walks can take you a half day, full day or Night walks as you hike through the sanctuary where you will be at one with Nature and its sounds. A well trained Guide will take you on a walk through the Lush Bushes to spot a wide variety of animals, Birds and Reptiles like the oribis, reed bucks, gray duikers, bush bucks, hartebeests, monkeys, butterflies and monitor lizards. The guide will share his knowledge of not only the animals but the botany and vegetation as well. If you are looking to unwind in the quiet environment, this is the activity you need to do.
Recommended times: Any time between 07:30 Am and 04:30 Pm.
How much time you need: Approximately 2 hours
What you need: Closed shoes, water, long pants and insect repellent
The Guided Night Walks will introduce you to night sounds and sensations you did not know existed! This is an experience you cannot exclude from your activities on the sanctuary. There are many nocturnal animals and who knows what you might bump into.
Recommended times: 08:30 Pm to 11:00 PM
How much time you need: Approximately 2½ hours
What you need: Closed shoes, water, long pants, insect repellent and a flashlight
ACCOMMODATION
If one is visiting Zziwa Rhino Sanctuary and is interested in doing all activities, they will need to have an overnight stay at the Sanctuary's affordable and comfortable accommodations that meet your Overnight Needs so there are no worries of where to stay or where to eat from, since the sanctuary also has a restaurant.
Amuka Safari Lodge; is an affordable and comfortable accommodation with very nice facilities for an overnight stay in the tented cottages, food that is served here is tasty. This lodge also has a swimming pool. The guest houses have both private and shared indoor facilities. The budget rooms use a shared ablution with full facilities. The camp grounds are pristine and located very close to our headquarters. The electricity is run on hydroelectric power with solar as a backup and all rooms have light and warm water for your shower in the evening. You can charge your phone batteries as needed upon request.
Restaurant;Before or after your activities, there is a Restaurant available  for a meal with specialized chefs to provide you with fresh, tasty and satisfying meals such as breakfast, lunch, dinner and takeaways.
May 27, 2023
MPANGA CENTRAL FOREST RESERVE The Mpanga Central Forest Reserve lies 37 kilometres southwest of Kampala City in Uganda's Mpigi district,