Lion Tracking Experience, Lion Research, Predator tracking, Wildlife Safari in Queen Elizabeth National park
August 06, 2021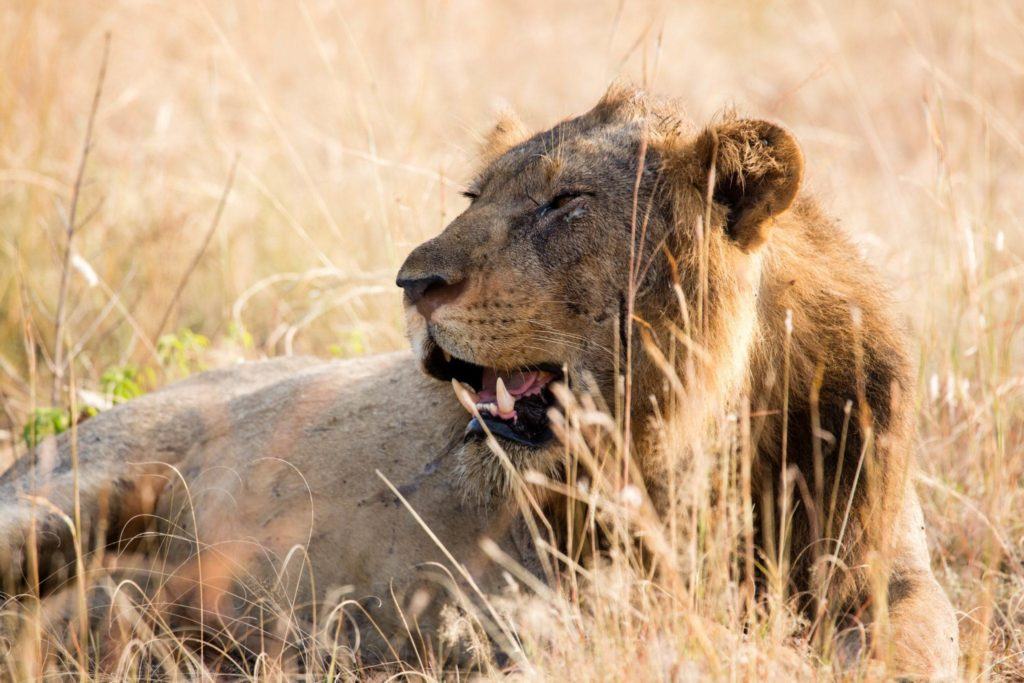 Lion Tracking Experience, Lion Research, Wildlife Safari in Queen Elizabeth National park
Queen Elizabeth National Park is one of the many National Parks in Uganda providing ideal habitats for classic big game, forest primates and birds for great game drives and safari opportunities. With Scenic and bio diverse eco systems including sprawling Savanna, Shady Forests, Sparkling lakes and lush wetlands. These varied habitats support a wealth of Wildlife with more mammal species (95) and over 600 bird species.  Expect to see all sorts of Wildlife with Safari Favorites such as Elephants, Buffaloes and Hippos with good Chances of finding lions on the plains of open rift valley grasslands of Kasenyi and Ishasha. With magnificent views of the backdrop of the Rwenzori Mountains National Park, rolling Hills pocked with extinct volcanic craters, the Hippos lined Kazinga Channel, the Mitumbe Mountains in Congo Rising above the distant, western shores of Lake Edward.
Queen Elizabeth National Park is the only park in Uganda where you can participate in a Lion Tracking Experience Game drive with researchers in the Kasenyi savannah Plains as one of the thought after Safari Activity while on a Uganda Safaris tour to this National Park. While it is more expensive than a normal game drive, it is definitely worth the extra money because you are pretty much guaranteed to see some lions up close. Since finding Lions on a Normal Game drive is usually not that easy, here travelers along with lion trackers and researchers set off very early in the Morning with the use of a radio tracker they locate different prides of lions to include juvenile cubs, lions, and lioness and catch up with them hunting and feasting on their prey. The Researchers will share information about their biology, habitats and threats. You will learn that the lifespan of a lion is about 12 years and that females do most of the Hunting. The male's role is to protect the family and ensure that no intruders come into their territory. A lioness gives birth to 3 cubs on average. It is a real treat when you get up close enough to see the lions in action while on a lion tracking Experience.
Lion tracking is a unique kind of experience that should not be missed on any Uganda Safari tour, which entails a closer encounter with the lions of the Kasenyi Sector north of Queen Elizabeth National Park. Just like on a gorilla trekking tour, radio callers track the whereabouts of these lions early in the morning and then inform travelers on which direction to take saving them time while on the search. Including driving off track while following individual or groups of lion pride in order to learn more about their behavior, feeding habits and social / group dynamics. It's a new tourism experience that was introduced by Uganda Wildlife Authority to diversify tourism products in Queen Elizabeth National Park and Uganda as a whole.
Lion tracking Experience is purely a research program under the Uganda Carnivore Program (UCP) which is committed to the research and conservation of lions, leopards and hyenas in Uganda. Visitors will actively monitor some of the lions using locator devices under the supervision of a Senior Research Assistant who has been involved in numerous wildlife interventions, including rescuing and relocating lions and leopards, and removing snares from elephants, buffaloes, and warthogs. You will learn habituation calls of lions, monitor the weather, and learn about the environment that these lions call home, and their behaviors. While the results from this monitoring and tracking experience will be added to the data base and thus helping in conservation and better understanding of wildlife. After your lion tracking Experience and watching lion prides so close to your safari vehicle you will become addictive and this will make a lion one of your favorite African Animal!
Difference between Lion sighting during normal game drives and Lion tracking in Queen Elizabeth National Park
While on a normal game drive in Queen Elizabeth National Park, Vehicles stay on designated tracks or roads as you experience your lion sighting after seeing a pride of lions closer to the road or see a couple of them resting in trees but quite far away from the main tracks or you may hardly notice one or more as they are camouflaged by or  hiding in the  thick scrubs and long grasses. During these normal game drives you may not be able to follow them as they wander off to rest in bushes and thickets. You may also struggle harder to get close enough to take Photos of them. Like all the National parks in Uganda going off track is strictly forbidden while on a Normal Game drive and you need to respect the Park Rules, thus you need to be lucky and equipped with good zoom lens if you want the perfect shots. This makes sighting lions and photographing them during a normal game drive a lot trickier.
However during a lion tracking Experience / research, the driver can drive off the main road and go off track deep into the savannah depending on the location of the lions. Once the team is close to the lions, the driver switches off the engine to avoid chasing away the cats. If you are lucky, you might witness the researcher collecting DNA, blood, urine, saliva, ticks and other samples from the lions after a tranquilizer is applied on a lion. While off track, you are able to get up close within a few meters with the lion prides, regardless of where they are in the park. This gives an excellent photo opportunity and a great vantage point from which to quietly observe them. Great opportunities to enjoy watching the juvenile cubs play with each other  in the midst of resting adults and  If you encounter a  whole pride giving you great and rare opportunities  to observe a lion family up-close.
Lions use different vocal signs to show distress or informing others of their location. Lions are territorial animals. The dominant male marks his territory by creating holes using his hind legs, urinating around the main trees in his territory. All these actions / signs leave a strong smell to warn any intruders. Use the time to take great photos of these big cats at a close distance. Lion prides are headed by a dominant male or two (often brothers). Males have black manes which are far larger than the females / lioness. Though smaller, lionesses dictate a lot of what goes on in the group especially because they do most of the hunting. A lioness may be smaller in size but will fight off males just to protect their cabs during any takeover. Lion tracking research Experience gives visitors a great chance of about 95% to see the big cats.
How to sign up for the lion tracking experience in Queen Elizabeth National Park
If you get a chance to visit Queen Elizabeth National Park, It is highly recommend for one to do the Lion tracking experience. It will give you the best opportunity to see lions up close. However, this activity is limited to a small number of tourists each day and you will need to book in advance if you want to participate. If you are using a tour Operator on your Uganda Wildlife Safari holiday, they are able to book you the experience. However if you are self-driving, you will need to contact the Uganda Wildlife Authority.
How much is the lion tracking experience in Queen Elizabeth National Park?
To take part in the Lion tracking experience, one needs to book in advance to secure the chance. The Lion Tracking experience costs $60 per person for international tourists and 100,000 Uganda shillings for East African Citizens. Payments can be made directly at the Uganda Wildlife Authority, Mweya Information Centre or more conveniently through your tour operator. The park authorities give $10 of each booking to the Uganda carnivores program. The price paid for this Experience excludes the normal park entrance fees. 
How many people can sign up for the Lion tracking Experience?
There is a limited number of people who are allowed to participate on the lion tracking Experience in a day. This is due to; To avoid stressing animals / Lions, To create enough room for accurate research and data collection which can easily be disrupted by larger crowds, To allow visitors have a great quality experience.
What is the best time of the Day  for your lion Tracking Experience in Queen Elizabeth National Park?
Lion tracking Experience has three sessions in a day. There is an early morning, afternoon and night sessions. Each session lasts between two to three hours. If you are booked for any of the sessions, you need to arrive on time. Lion tracking Experience must be booked within 24 hours in advance. The chief tracker or researcher will brief you about the activity and what to expect before you get into vehicles to search for the lions.
Why do the lion tracking experience / why track the lions in Queen Elizabeth National Park?
Lion tracking did not start as a tourist activity. It was started as means to monitor the movement of the lions, to map out their territories and to learn more about their behavior. It also helps park rangers know when the lions are sick or when they are in danger (e.g. when they get too close to the villages and risk being killed by villagers).
Lion tracking is operated by the Uganda Carnivore project together with Uganda Wildlife Authority. The project does an extensive survey about lions in the park and their ways of living together with other predators. This enables them to revise strategies to conserve these wild beasts for sustainable tourism and future generation. The major aim for this project is to educate local communities adjacent to Queen Elizabeth national park on how peacefully they can live with these carnivores with no harm on both sides. The experience gives travelers a chance to track, monitor and research about the kings of the jungle.
Other Experiential research Activities to do in Queen Elizabeth National Park
you can choose from other Experiential Wildlife Tour activities and combine them with a Wildlife Safari themed around mongoose tracking which you can register for three hours along the Mweya Peninsular to learn about the mammals and their principle enemy the African Cobra. Hippo census and bird counts which can be booked through MuAfrika Adventures or through the Uganda Wildlife Authority or the Mweya Information center in Queen Elizabeth National Park.
MuAfrika Adventures Limited offers you affordable, memorable and once-in-lifetime Lion Tracking Experiential activity that can be combined with a boat safari on the Kazinga channel.
Suggested Itineraries that can include Lion Tracking Experiential Activity;
May 27, 2023
MPANGA CENTRAL FOREST RESERVE The Mpanga Central Forest Reserve lies 37 kilometres southwest of Kampala City in Uganda's Mpigi district,